Vol.2, No.2 (2004.3.31)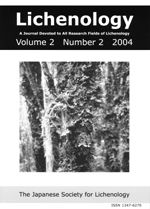 Cover illustration 表紙図
ナメラカブトゴケ
日本の冷温帯ブナ林を代表する種だが,中国雲南省では針葉樹林が卓越する高度に分布する.中国雲南省麗江県の老君山,標高約3500mにて,2003年9月15日,原田 浩撮影.
Lobaria orientalis,
a beautiful foliose lichen of East Asia. In Japan this species is distributed in broad-leaved deciduous forests predominated by Fagus crenata in the cool-temperate zone, whereas in Yunnan, China, it is commonly found at the altitudes where evergreen conifers are very common. Photo by H. Harada; ca. 3500 m elev. on Mt. Laojung-shan, Lijiang Co., Yunnan, China, 15 Sept. 2003
Cover Illustrations of Lichenology Vol. 2, No. 2
---
FULL PAPER 原著論文
原田 浩・岡本達哉・吉村 庸: 日本産地衣類および関連菌類のチェックリスト
[Harada H., Okamoto T. & Yoshimura I.: A Checklist of Lichens and Lichen-allies of Japan]
Lichenology 2(2): 47-165.
REVIEW 総説
坂東 誠: 実験条件下における地衣類の栽培方法
[Bando M.: Cultivation of Lichens under Experimental Conditions]
Lichenology 2(2): 167-172.
ABSTRACTS OF SYMPOSIUM "LICHENS OF YUNNAN, CHINA -DIVERSITY AND BIOGEOGRAPHY" シンポジウム"中国雲南省の地衣類 —多様性と生物地理—"要旨集
Lichenology 2(2): 173-176.
PROCEEDINGS OF THE JSL 2ND ANNUAL MEETING 第2回大会研究発表要旨集
Lichenology 2(2): 177-184.
NOTES ノート
Huneck S.: Prof. Dr. H. Hertel - 65
Lichenology 2(2): 185.
INDEX TO NEW NAMES AND COMBINATIONS APPEARED IN LICHENOLOGY, VOL. 2, NO. 2 (2004)